Imagine being in a sticky situation where you are 100% dependent on someone and that someone being there to help you but not actually being really helpful? That's what happened to me and Careem! Here is the complete story;
December 14, 2018 – I bumped my knee into the bedside early morning and hurt it badly, I can't bend it completely. It was very painful! I had a doctor's appointment for my newborn daughter at 4 PM at AKH, Ayesha Manzil. Since I had a knee injury, I was not able to drive my car (a manual car), so I choose my best option, Careem! Booked it from home and went to the hospital – got an amazing captain, as usual, everything went well. After the doctor's appointment, I had to drop my wife (who had a c-section past Monday) and my 3-day old daughter, my mother-in-law and my son back to my in-law's place. So, I booked a Careem, the captain was a bit far, I canceled the ride. The second ride, the same thing happened – so it was ride # 3, had to cancel it as the car wasn't suitable. Ride number #4, the captain asked me to cancel as he didn't want to go to my destination area, so I canceled the ride and booked ride #5 – the captain was near so I called him up to confirm the location. He said that he, by mistake, booked a ride of Uber and Careem at the same time (WTH!) so I canceled that ride to book another one…. BUT I COULDN'T!!! MY ACCOUNT WASTEMPEROARLY DISABLED FOR 1 HOUR DUE TO EXCESSIVE CANCELLATION!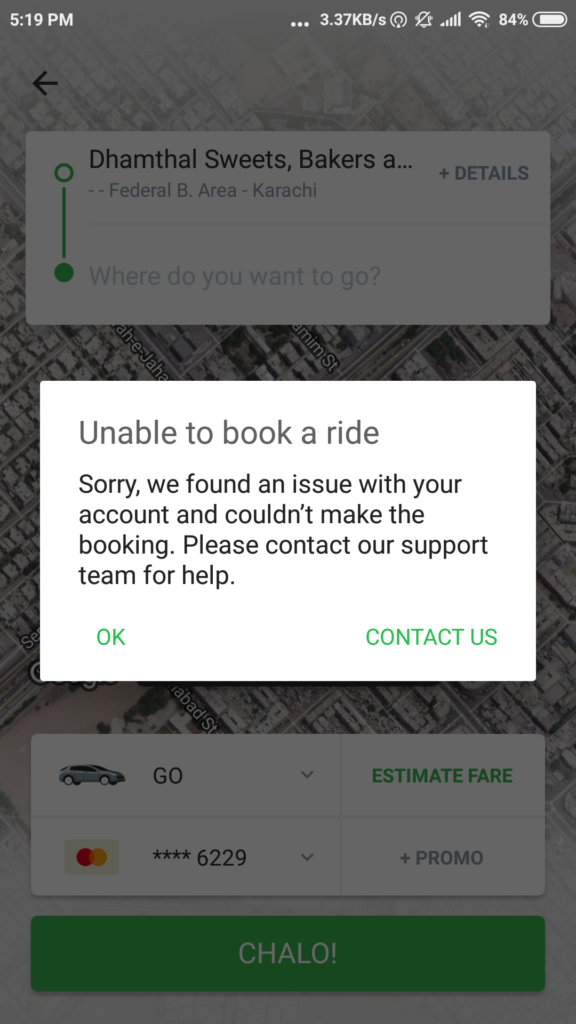 What in the world am I suppose to do now? I thought of calling Careem helpline, which has been really helpful in the past and had resolved some issues in past VERY quickly! With high hopes, I called them seeking a resolution to the strange issue I was facing! My hopes where all shattered when the Careem CSR told me that he'd not be able to help me out with this and I have to wait for my suspension time to be over so I could book another ride! That was a bummer! All my hopes were shattered! You can listen to the call recording below;
Now imagine being in a situation where you are sitting at hospital with your newborn baby, your wife who has c-section 3 days ago, your mother-in-law and 2 kids (2 & 5 years old) with an injured knee and the company you love the most because of their amazing service and are dependent on them in many situations ditching you in your time of need! I mean common; Careem's CSR does not have the authority to unblock customer's account when they call them and explain the situation! What kind of policy is that? I checked Careem's website and it is clearly mentioned that account can get blocked or suspended for high cancellation rate but it does not mention what to do if the captain asked to cancel the ride for any reason? Here are few reasons Careem's captains have asked me to cancel the ride in past;
#1: I'm sorry I can't take you as your ride is on wallet / credit card!
#2: I'm sorry I don't want to go to that area!
#3: I'm sorry I can't do a round trip!
It's not the service I'm disappointed at, its their policy which betrayed me in the time of need! I really felt offended when the CSR told me that he can't restore my account and I have to wait for an hour before I could book my next ride! I even asked him for one good reason not to switch to Uber right now and he was out of words!
Careem, you really need to look into your policies, I know they are there to protect you, your captains and your customer but there are special cases too! Do look into that as well! Oh and I did install Uber and went on my journey home with my family. I still haven't un-installed Careem from my phone, just stopped using it since then. Uber is really not that bad after all.
Please do leave a comment